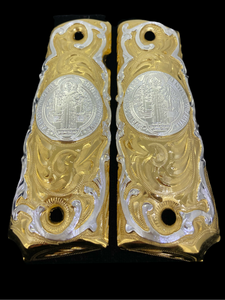 1911 Full Size Cacha Grips Benito
1911 Grips are handcrafted in German Silver Alpaca, hand engraved and inlaid with resin in addition they are electroplated in Rhodium and 10k gold plating. 
Screws Not Included

FITS COLT, Kimber, Springfield, Remington, 1911 Colt 45/ 38 Super, Charles Daly, Ed Brown,Wilson, Taurus, Ruger SR1911, Sig, Smith & Wesson, Rock Island*, Llama, GSG 1911 plus 1911 AND GOVERNMENT MODEL CLONES We make these grips to fit your 1911 Taurus or others with ambi-safety only at your request
WHAT IS GERMAN SILVER? Nickel silver, German silver,[1] Argentan,[1] new silver,[1] nickel brass,[2] albata,[3] alpacca,[4] alpaca orelectrum[5] is acopper alloy with nickel and often zinc.The name "German silver" refers to its development by 19th-century German metalworkers in imitation of the Chinese alloy known as paktong
WHAT IS SILVER .925? Real 925 sterling silver jewelry consists of 92.5 percent pure silver and the rest in some kind of alloy

It is the buyers responsibility to be absolutely certain that any parts ordered are correctly fitted and installed. Firearms are complicated mechanisms and improper fitting of parts may result in dangerous malfunctioning, Damage to the firearm and serious injury to the shooter and other persons. The purchaser and installer of parts must accept full responsibility for the correct adjustments and functioning of the firearm after such installation. Purchaser takes full responsibility of any misuse, abuse, neglect, modification(s), improper installation, improper use, or improper handling.
---
We Also Recommend
---